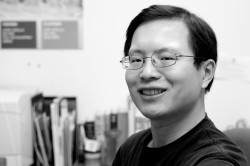 Name: John Zhu
Job: Slave to a toddler and a black cat
Job that brings in money to buy food to feed said small mammals: Communications professional in North Carolina who does strategic communications, design, writing, editing, and web development. Currently the senior public affairs officer and communication strategist at the Duke University Graduate School.
Former jobs that brought in money to buy food to feed said small mammals: Journalist (first a writer, then a designer/copy editor) for more than a decade before moving into other lines of design and later into public relations.
For more information about my work, visit john-zhu.com.
Some things I blog (and tweet) about: Communications, journalism, food, photography, China
All opinions expressed in the posts on this site are my own, whether I want to admit it or not.
Other places online where you'll find me: Twitter, LinkedIn, 3kingdomspodcast.com
This I Believe
Instagram filters are evil.
Too many people think they know how to write or design. Too few actually do.
I love America's ideals. I hate how often it falls short of them.
Deep Space 9 was the best Star Trek series. The new Star Trek movies are not Star Trek.
Transparency only works if you have nothing to hide.
Kitchen essentials: Cutting board, Chinese cleaver, chopsticks, wok.
Evolution, evolution, evolution.
Your job doesn't look that hard when I'm watching you do it. I think I can do that.