The Pew report on where Millennial, Generation X, and Baby Boomers get their political news sparked a lot of chatter about the Facebook/local TV divide between Millennials and Boomers. There are, however, some other rather interesting tidbits in the report beyond that headline item.
First, though, more about that Facebook thing
This is the graph you're most likely to see thrown around in discussing Facebook and local TV as sources of political news for Millennials and Boomers:
However, it's also important to consider this graph, which I have not seen in pieces discussing this topic:
So … where's Facebook? And note the similar percentage across generations for local TV.
Here's the report's discussion of the data in this graph (emphasis mine):
When asked separately to name their main source for news about government and politics (before being asked about the 42 specific sources), only a handful of sources garner double-digit percentages within each of the three generations. CNN, for example, is named most often by both online Millennials and Gen Xers at 21% and 18%, respectively; and among Baby Boomers, 16% name Fox News and 11% name CNN as their main source. About one-in-ten in each of these generations name local TV. All other sources are named by less than 10%.

These findings also suggest the degree to which Facebook, even though it is by far the most common way Millennials get news about government and politics, is not top of mind as their main source for this type of news. Three percent of online Millennials volunteer Facebook when asked for their main source for political news (as do 1% of both Gen Xers and Baby Boomers.  This is consistent with our previous research indicating that getting news on Facebook is largely an incidental experience.
Beyond Facebook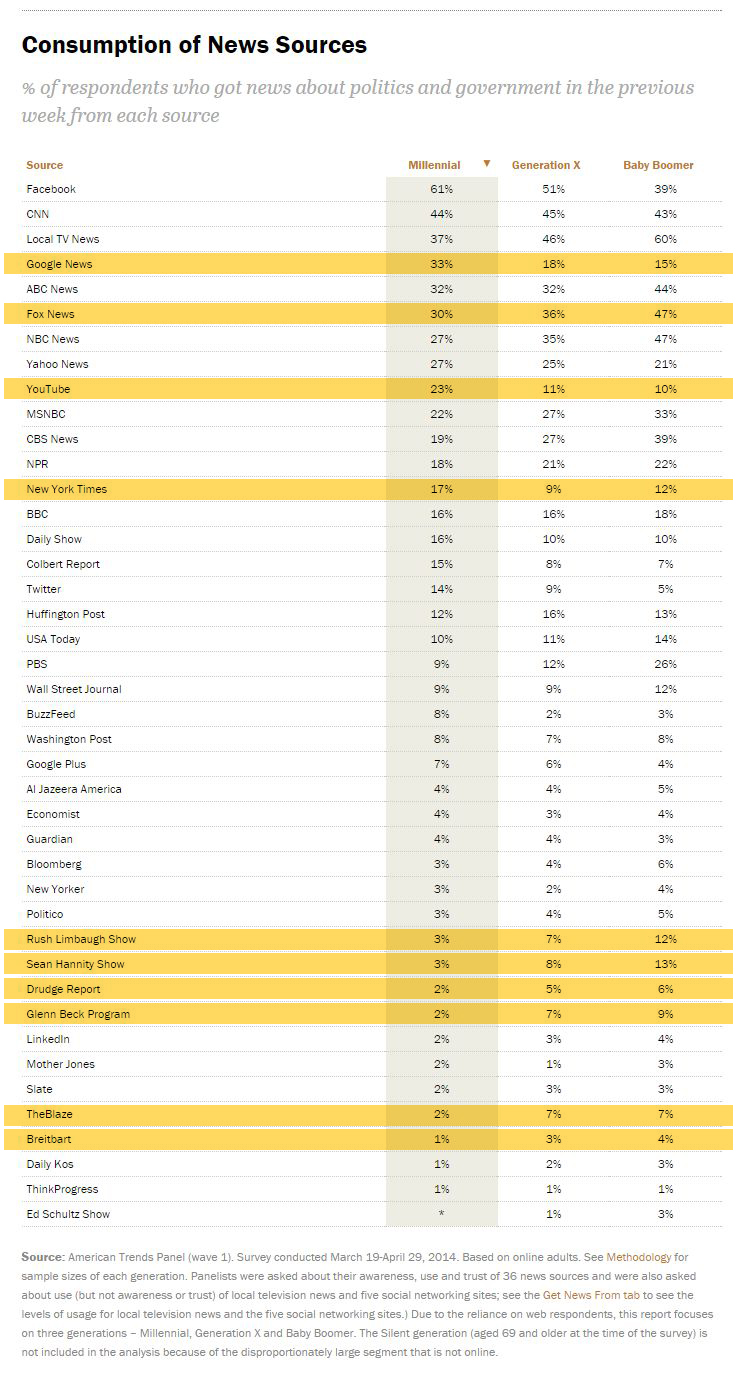 Millennials use Google News and YouTube as political news sources much more than the other two generations.
More Millennials get news from the New York Times than Gen Xers or Boomers.
The conservative news sources are not doing so hot with Millennials compared to the other two generations.
You haven't heard of what??
Look at this table of the percentage of respondents who have HEARD OF a particular news souce. Things that make you go "Hmm …":
Almost 1 in 5 Millennials and Boomers have not heard of the New York Times.
Almost 3 in 10 Millennials have not heard of the Wall Street Journal or the Washington Post.
Among Millennials, 55 percent have not heard of NPR.
Among Millennials, 60 percent have not heard of Buzzfeed.