Background
The long version:
And then, in the science writing community, this happened (or more accurately in one of these cases, didn't happen):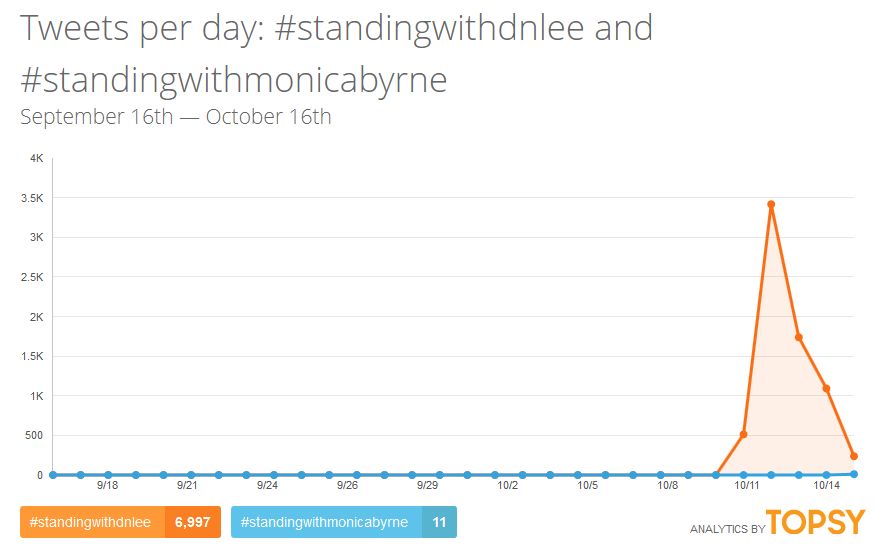 (Screenshot taken at 7:00 a.m. on October 16)
Doing it wrong
Naming Bora has a reasonable likelihood of destroying his marriage, his friendships and his professional standing in this case. You may feel that this is justified. But I can't help wondering where the bar lies for wielding a private exchange (which admittedly led to serious distress) to causing serious and widespread damage.

I have corresponded with Bora on occasion, but nave never met him in person. I have no reason to doubt your account of your meeting with him. I do know that he has been a major factor in the rise of informal science writing and web-based science communication in the US and beyond. And that he is highly respected within his community. Whether these are adequate justifications for not calling him out by name I leave with you. But I would advocate for consideration and compassion at this stage.

— Andrew Maynard, "When to name and shame on Social Media, and when to show compassion…"
Umm, no.
I'm no stranger to sexism http://t.co/diDYRvgQQe Yes @BoraZ made mistakes. But acknowledging/apologizing = right thing. Let's focus on that.

— Sheril Kirshenbaum (@Sheril_) October 15, 2013
Also no.
At least they are writing about it
(and not in some veiled, hush hush manner that makes you hunt around to figure out what actually happened)
This is not an excusable thing. And what stings is that Bora is a friend, even a father figure, to me. Bora is the reason I have a job at Scientific American. He is the reason I am a science blogger. He has come to my aid many times when I have experienced personal, sexist attacks for writing the things I write.

So I know this is fumbling, and awkward, and awful, and I don't totally know how to do it. But I want to figure out is whether it's possible to completely trust, honor, respect and support targets of sexual harassment, and also care for the perpetrator and want to figure out how to help him never do this again.

Can this be done without causing additional harm to the target? I don't know. I don't know.
That does not mean that Bora's outing was not painful and confusing to me. Bora has been a friend to me and a supporter of mine. I've always seen him as someone who was a champion for increasing the diversity of voices in science and science communication. So I didn't say anything about it — I didn't tweet about it, didn't bring attention to it on Facebook or Google+ or LinkedIn.

But my not joining in the discussion on social media obviously does not mean I haven't been thinking about the situation. As I said above, on a global level, I'm glad Monica came forward. On an individual level, I'm struggling with the correct context through which to view his behavior.

— Seth Mnookin, "A chance to discuss sexism & misogyny in science communication: DNLee, Bora, & the SciAm fiasco"
Doing it right
 There is no outrage or shock. Yes DrugMonkey and Odyssey had posts that made me think they were talking about it but they didn't really make it clear that Bora had sexually harassed someone and used a lame ass excuse. Except of this tweet from @MarkCC, I haven't really seen any outrage. Why? Where is it? Unless I've missed it. Perhaps all the posts have gone up in the 45 minutes it took me to tap this out on my iPad? Or is it because Bora still has power in the Sci Communication field? I mean I saw tweets of people saying they support their friend Bora. WTF?! I'm not saying he can't be sorry or he isn't remorseful and can't be reformed, but that doesn't mean you excuse or treat him lightly.

— ScientistMother, "#StandingwithDNlee and I'm #StandingwithMonicaByrne"
It underlines that push come to shove, people are going to side with someone with more social capital, even if that person did something that the people siding with him are against in theory — and that people are going to trust their own gut feeling that the person who harmed you is a good guy over the most careful and accurate recitation of the facts, even over what they see with their own eyes.

…

I have known Bora for years. I have respected his professional judgment. I have deep affection for him and for his wife. I count him as a friend. He has never harassed me.

But that doesn't mean that I am going to offer apologia for his bad behavior. It doesn't mean I'm going to preemptively disbelieve Ms. Byrne's account, not just of what happened but also of how it affected her.

…

People who do great things for a community can also do great harm to individual members of that community — and, by extension, to the very webs of trust within that community that they worked hard to build.
From me
I don't know Bora personally, but I've followed him enough professionally to know his contribution to science communication, and I respect him for that (see update below). No amount of good work, however, excuses or even ameliorates sexual harassment, and one should not need to have been a victim of sexual harassment to realize that. As Stemwedel points out, people are going to side with the person they know better. However, advancing to the "he made a mistake; let's learn from this and move on" stage mere hours after the news broke seems a bit too soon, too convenient, too forgiving, too easy.
Or, as @drisis put it:
I see we've reached the part of the day where we hug it out and sweep it under the carpet #friendofbora. Go ahead.. #sideeye

— Dr. Isis (@drisis) October 15, 2013
Update (Oct. 18)
This just keeps getting uglier. In the last couple days, two more of Bora's victims have come forward and shared their experience:
At this point, I find it hard to retain much respect even for Bora's professional contributions, especially since his misdeeds are so tightly intertwined with his professional realm.
On the positive side, these stories, and the way they trickled out one after another, have made it impossible to move on quickly from the scandal. To its credit, the science writing community has not shied away from the discussions that must be had. For instance, see the #ripplesofdoubt hashtag on Twitter for a sense of how pervasive such unacceptable behavior is.