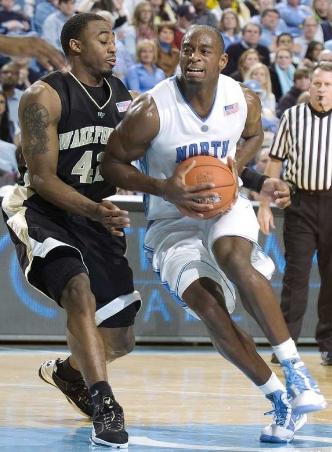 Going into this season, I knew that any chance of the Tar Heels being back in the Final Four, or even going to the Elite Eight, were virtually non-existent, regardless of how highly ranked they were in the preseason polls. However, I figured they'll get their 20-plus wins, finish near the top in the ACC, and win at least one game in the NCAA Tournament.
Now, more than halfway through the season, I'm getting to the point where I would be thrilled if the Tar Heels, mired in a funk in which they've lost three in a row and four of five, just make the NCAA Tournament. Wednesday night's drubbing by Wake Forest left UNC at 12-7 (1-3 in the ACC) with 12 games left:
Jan 26    @N.C. State
Jan 31    Virginia
Feb 4    @Virginia Tech
Feb 7    @Maryland
Feb 10    Duke
Feb 13    N.C. State
Feb 16    @Georgia Tech
Feb 20    @Boston College
Feb 24    Florida St.
Feb 27    @Wake Forest
Mar 2    Miami (Fla.)
Mar 6    @Duke
If the Heels are to get to 20 wins in the regular season, they'll need to go 8-4 the rest of the way. Looking at that schedule, I can only see one game that I can honestly say the Heels should win — at Boston College. Every other game is at best a toss-up, and this team hasn't shown the traits you need to win the close games — taking care of the ball and being mentally tough. Seven of the remaining 12 games are on the road, and aside from N.C. State, none of the other road opponents has lost more than one game at home. UNC, by the way, has the worst road record in the league, going 1-5 away from Chapel Hill so far. The schedule also includes a game against league-leading Virginia; two against second-place Duke, which is playing the toughest defense I've seen from Duke in a while; a game at Maryland, whose Greivis Vasquez always gives the Heels fits; and rematches at Georgia Tech and Wake Forest, both of whom have already beaten UNC in Chapel Hill.
The Heels certainly have the talent and the ability to hang with just about anybody in the league, but they haven't played like an NCAA Tournament team lately. Looking back, this team might've played its best ball in the early part of the season, when it held its own in that brutal stretch against Michigan State, Kentucky, and Texas. The Heels went 1-2 in that stretch, but honestly they played better — against tougher opponents and in more hostile environments — than they have in the past two or three weeks. Even when they were winning games around the holidays, they weren't playing that well. They blew most of a late 17-point lead before pulling away from Rutgers. They routed Albany but ended the game on the wrong end of a 23-2 run in the last seven minutes. Even when they pulled away from Virginia Tech in the second half, that was mostly because they caught fire at the right time and hit five straight 3-pointers. Aside from that, the Heels have frankly been very mediocre. Their big men have been outplayed every night for the past couple weeks despite their preseason hype, and everyone on the team have been timid and careless with the ball. The outside shooting has been missing except for a few spurts. Marcus Ginyard and Deon Thompson have not shown the kind of leadership or experienced play you would expect from two battle-tested seniors. Throw in injuries to Tyler Zeller and Ed Davis, and you might have the makings of a perfect storm that keeps UNC out of the tournament.
Certainly, if the Heels have 19 or 20 wins by the end of the season, their tough schedule will get them into the NCAA Tournament. But that means getting at least seven more wins, and they've really left themselves little margin for error.  Strength of schedule only helps you if you actually win enough games to merit NCAA consideration, and right now it's not a sure thing that UNC can even go .500 the rest of the way. If this team finishes with, say, 17 wins, which would put them at 7-9 in the ACC, I'm not sure if they will get into the Big Dance (or deserve to), regardless of reputation or schedule strength.
All season long, people have been saying that this team will be better in February. Well, February is right around the corner, and UNC has actually played progressively worse. What's even more worrisome is that while this is a team that's more talented than its record would indicate, it's not a team that has played better than its record would indicate. The Heels haven't lost close games that they should have won. Instead, they've lost games they should have won and in other games have actually been fortunate to have lost by as few points as they did.
Right now, this team looks more like the 19-16 NIT team in Matt Doherty's final season at UNC than the David Noel-led 2006 team that surprised everybody and went 23-8. I'm holding my breath for that Roy Williams magic to kick in any second now and turn this team around. But what worries me most is that, as Roy would likely tell you, there is no magic wand a coach can wave to make a team start playing well all of a sudden. If there were, he would've waved it a week ago.